Home

News

About Us

Download

Security

Privacy & Terms

FAQ
view download tips x
Download the latest version of ToTok for Android
Version 1.4.2.235
ToTok for Android is also available on Samsung Galaxy Store , Huawei App Gallery , Xiaomi GetApps , OPPO App Market, and Apkpure.
For secure and privacy protection, any download from unknown sources should be verified with SHA256 checksum displayed here, otherwise you must not install it.
Platform :

Android

ToTok APK :

totok_release_v1_4_2_235.apk

Size :

41 MB

Release time :

2020.03.29 08:39 (UTC +04:00)

SHA-256 checksum :

9db9f83dc23b33fd6bfc85baecb7438c71ffa22ab1f759fefbfac146c29bac05
ToTok Clarification Message to Latest Google Notification
We have been informed that some of our Android users are receiving Google Play Store notifications not to install ToTok.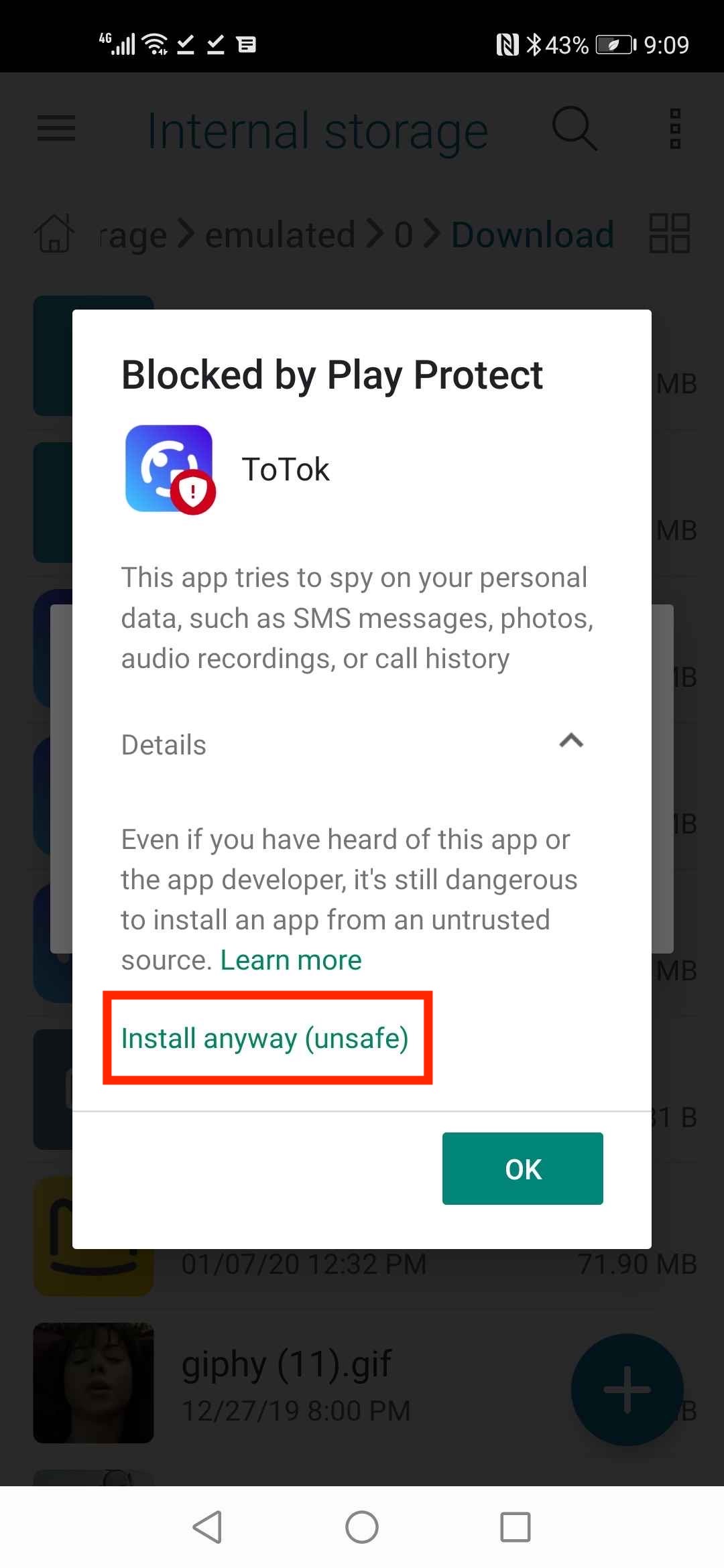 We encourage you to ignore the Google Play Store message and continue to install and enjoy ToTok. Our app is secure and used safely by millions of people around the world. Please click here to learn more about our privacy and security features.
Here are some important facts about ToTok:
ToTok has NO access to user SMS messages, meaning ToTok does NOT read or track user messages
ToTok does NOT view or upload any user photos
ToTok has NO access to user call history, meaning ToTok does not read or track user call history
ToTok does NOT listen to or upload any user audio recordings
ToTok has access to less user data than other leading instant messaging applications, such as WhatsApp and Telegram
Please note that to make it easier for everyone to stay up to date on the recent coronavirus outbreak, we introduced "Coronavirus Live Updates", a dedicated section that allows you to access the latest statistics and global news on the COVID-19 epidemic.
Going forward, we will be launching a number of new features to enhance your experience on our app, including ToTok News, ToTok Games Center, and lots more!
Thank you for joining the ToTok community!